HAWKAM'S HIGH TEC
"KAI"
18/06/01 - 22/06/13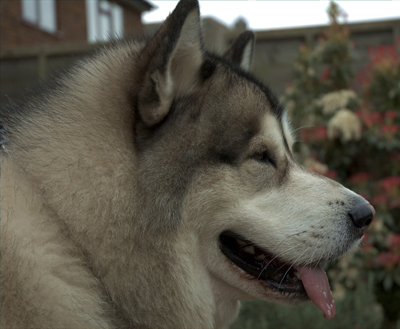 BVA Hip scored and eye tested
Sadly, we lost Kai in 2013. We miss him every day.
Kai is our first Malamute, brought home from Hawkam Kennels in Lincolnshire in 2001. He has taught us so much and we can't imagine life without him. Kai is a loveable, cuddly bear who absolutely adores people both young and old, successfully representing the breed at Discover Dogs in 2004 where he was a hit with everyone, lying on his back inviting tickles and being climbed over by kids of all ages. He even loves the vet!
Kai has retired from showing and working but not before gaining a 1st place at Crufts, 1st places in rallies and the fastest Malamute team in C2 at Aviemore 2004 alongside his brother Kodi and sister Khira. He also succeeded in gaining a Reserve Best Puppy in Show and a Best of Breed at open show level and Reserve Best Dog at Championship level. Kai also holds his Kennel Club Bronze Good Citizen's Award.
His retirement consists of walking and paddling in the nearby lakes as well as trying to boss Tika around. They really are just like an old married couple! Kai is our "puppy dog", our big, beautiful boy and we love him to bits.
List of achievements:
Reserve Best Puppy In Show
Fastest Malamute Team - C2. Aviemore 2004
KC GCDS (Bronze) - KC Good Citizen Dog Scheme Bronze Award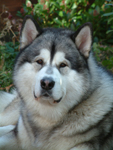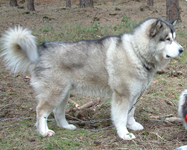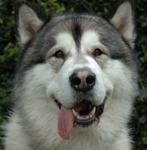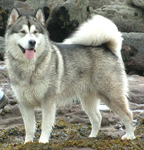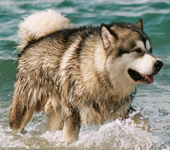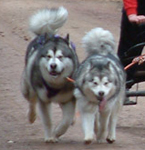 © Designed by Amaqqut Malamutes. No part of this website may be reproduced without permission.