In May 2006 I was looking at the Alaskan Malamute Club of America (AMCA) website and was reading through their working titles. An idea formed and I sent an email off to my friend Emma of Brandelle Malamutes asking if she was interested in a challenge. She was daft enough to reply and so we started looking into the possibility of doing the Working Pack Dog title here in the UK.
We hit a bit of a brick wall at first but eventually we found Wendy Corr of Onak Malamutes out in the US who took us under her wing and went through every rule with us and gave us the best advice and encouragement we could ask for! We imported some Wenaha backpacks that were recommended by Wendy and went into training. Six months later, we felt we were ready to go ahead and our dogs were confident with carrying 30% of their body weight which is the requirement.
In November 2006 myself and Emma set off with Kodi and Scooby to the Cleveland Way in North Yorkshire and walked from Saltburn By The Sea to Osmotherly, the required 30 miles with an overnight camp. It was cold, it was wet at times and it was hard work but we succeeded and sent off the paperwork to the US with our fee. On January 11th 2007 we were awarded the Working Pack Dog titles by the AMCA, the first UK Malamutes to gain working titles. We have to thank Wendy Corr for being our mentor and one person support team and for becoming our friend.
Since then, backpacking has taken off as an activity in the UK and there are many more Malamutes gaining their working titles. There are organised walks and groups of friends, all enjoying the time they have with their dogs. As an activity it's great, after all the dogs go out for a walk, why not with a backpack!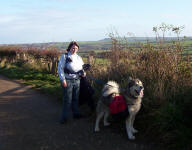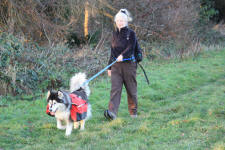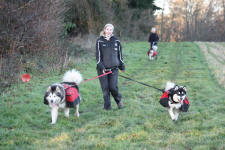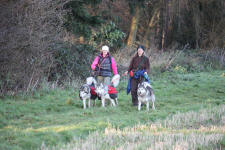 © Designed by Amaqqut Malamutes. No part of this website may be reproduced without permission.