We have been taking part regularly in weight pull competition since 2008. We had tried Kodi at the annual pull at Aviemore each year and he had done really well but there was little chance to take part in weight pulling here in the UK with the event being the only annual pull.
At the beginning of 2008 Keith Butler of Kaytoo Malamutes and Andy Scott of Arcticdawn Malamutes had put a plan into action to bring a series of weight pulls to the UK. Andy made a weight pull trolley, 100lb weights and weigh machines while Keith got a set of rules made up based on the AMCA rules. They were kindly given use of a farm yard in Allerton Park, North Yorkshire by the land owner Lord Mowbray and a few of us went along to try it all out.
Kodi took to his new activity straight away, while it took a it longer for Womble who needed to focus on the job in hand rather than muck about in the chute! Porsche slowly built up her weights - she is such a little princess! They are all enjoying their days out though and start singing as soon as we turn off the A1 towards Allerton Park.
We had a short season of four pulls in 2008, resulting in Kodi winning the 81-100lbs class of the Championship and Womble coming 2nd in the class. All three dogs earned their WWPD titles in 2008, Kodi becoming the first dual titled working Malamute in the UK. Since then, a series of 8 pulls has become a popular addition to the UK working scene. Kodi and Womble have both won their classes twice and Porsche has managed a 3rd place. Womble gained his WWPDX title during the 2011/12 season.
We so enjoy the friendly atmosphere of the weight pulls, the dogs do all the work and thoroughly enjoy what they do.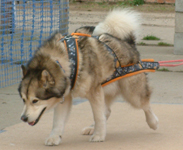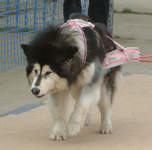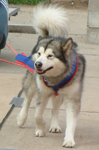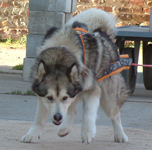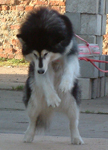 © Designed by Amaqqut Malamutes. No part of this website may be reproduced without permission.