Amaqqut Alaskan Malamutes is based in West Yorkshire in the north of England. The kennel name Amaqqut was adopted as it means "wolves" in one of the many Inuit dialects, suiting the primitive looks of the breed. We bought our first Malamute over a decade ago following a couple of years of intensive research and over time we have added to our furry family.
We are members of the Alaskan Malamute Club of the UK and the Alaskan Malamute Club of America and are active in the breed, taking part in activities with our dogs throughout the year. We take part in dog showing during the summer and on the working side, we back pack, weight pull and for several years we worked our dogs on the UK rally scene, although we prefer now to do longer distance treks. Along with a friend, Joan helped to introduce the Alaskan Malamute Club of America working titles to the UK when Kodi and his friend Scooby became the first two UK Malamutes with working titles and he was also the first dual titled Malamute in the UK. Joan is also active within the Alaskan Malamute Club, having been on the committee for several years and has co-ordinated Malamute Rescue in the UK in the past but currently acts as webmaster for the club website and is an active member of the AMCUK health sub-committee. Joan has been accepted onto the AMCUK "B" list for judging Malamutes in conformation and is enjoying judging some really lovely Malamutes.
Our dogs are first and foremost our much loved pets, we love the breed and look forward to the future with them. Malamutes are certainly not simply a pet though, more a lifestyle, and we find an active Malamute is a happy Malamute.

Our thanks go to Walt and Kath Howarth of Hawkam Alaskan Malamutes and Canadian Eskimo Dogs in Lincolnshire who put their trust in us and allowed us to enter the Malamute world. They have been with us every step of the way and have shown enormous support in all we do, we truly couldn't have asked any more from them.
Joan & Jeff Sheehan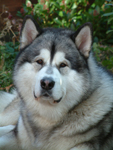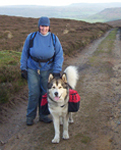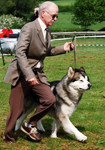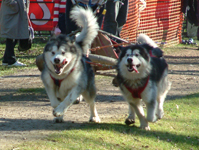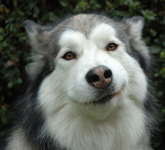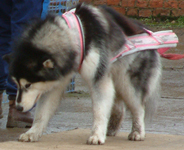 © Designed by Amaqqut Web Design. No part of this website may be reproduced without permission.